Print Friendly
SecoTHERM™ has been developed to the highest standards and is THE ULTIMATE WEATHER PROTECTION for masonry and bricks.
Water and UV degradation are the two key elements in the damage of masonry surfaces. This product is completely unaffected by UV rays and creates a barrier against water.
SecoTHERM™ has been developed through nano technology, while the exterior surface prevent water ingress it remains breathable to allow release of water vapour already present in the wall.
Preventing water ingress through exterior walls can reduce energy consumption by up to 30%. Porous building materials such as natural stone and bricks normally have good insulating properties because they have air filled cavities which offer low thermal conductivity. But only if they are dry.
Proven Peformance
Water absorption can be minimized dramatically by treating with SecoTHERM™. On a porous brick the water absorption will be reduced by more than 95%.
SecoTHERM™ has been tested to EN ISO 15148:2002, demonstrating is hygrothermal performance on concrete, mortar, brick and sandstone.
Damp Walls are Thermal Bridges
Damp walls are thermal bridges – if moisture collects in the pores of the wall, more heat is transferred than would be possible if the pores were dry. Thermal conductivity of the wall decreases enormously with dampness.
Tests have shown that a damp content of 5% in a plain brick wall can lower insulation performance by as much as 50%. This is especially pertinent where cavity wall insulation has been installed because when the insulation is wet it loses its thermal value. Many house owners do not realise this.
SecoTHERM™ Facts
Has been test by The Danish Technological Institute for its thermal properties and has been proven to reduce energy consumption.
Creates a self cleaning surface that will protect against dirt, pollution, damp and UV light degradation. SecoTHERM™ also eliminates damp from your wall and prevents frost damage to the structure, that it is applied to, caused by freeze/thaw brick degradation.
Guaranteed for 20 years and as an approved applicator of SecoTHERM™ we are able to cover this work with a manufacturers extended guarantee.
Application Demo
UK Masonry Preservation
Breathable Coating Demonstration
Request a Survey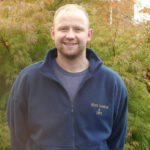 My name is Jamie Johnson and I'm happy to take an enquiry and arrange a home visit with you.
If you think Stay Warm and Dry can help remedy your property's damp issues, contact me by phone or email.
We provide services in Nottingham and Derby.