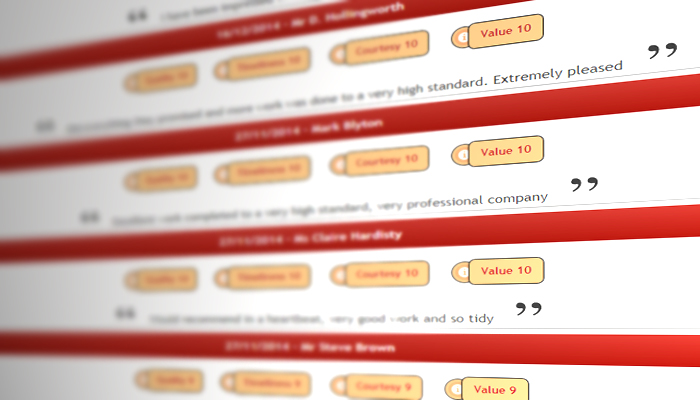 My business is a member of the Elite Fairtrades Register. As a trades person, joining this trade association, I believe is probably one of the best decisions I have made.
It enhances our reputation, saves our business time and money as well as increases the home owners confidence by putting us ahead of the competition.
Rest assured that the trade association's strict vetting procedure ensures that only the best tradesmen make it into the register.
Fairtrades was established in 1983 as a premier multi trade association for Damp Proofers, Builders, Glaziers, roofers and many more trades besides.
Today, Fairtrades Ltd is a highly successful Trade Association with a very popular tradesmen's directory.
The Fairtrades logo, featuring the 'Scales of Justice' is widely displayed by the current members on their business cards and advertisements, vans and in their showrooms.

Members Code of Conduct
Respect the Homeowner's rights at all times
Act appropriately and be transparent during contract negotiations; do not exert any undue pressure to secure a contract
Supply a written quotation when submitting a tender for contract
Comply with all laws, statutory regulations and Building Regulations
Maintain adequate employers and public liability insurance
Respect the Homeowner's privacy and take all steps to ensure the security of their home and a safe working environment, with specific attention to Control of Substances Hazardous to Health Regulations and the safe and secure disposal of waste, and Work at Heights Regulations
Ensure that all work is started and completed on the agreed dates and that any unavoidable changes are clearly communicated to the homeowner
Arrive at the agreed time for appointments with the homeowner and to give advance warning of any unavoidable delay
Ensure that all work is completed to pre-defined specifications and budgets as defined in an agreed contract. All changes must be communicated and agreed with the homeowner prior to proceeding
Ensure that all works are completed to the highest possible standards and that all guaranteed elements of work are agreed
Leave all areas clean and tidy at the end of the day, and to remove all rubbish upon completing the contract
Have a complaints procedure that ensures you will respond to any complaint in a reasonable time and in a proper manner
Be fully responsible for all colleagues and sub-contractors in meeting these standards at all times
Provide written guarantees for workmanship and materials and, whenever possible, an Insurance Backed Guarantee; at the very least provide information to allow the offer of an Insurance Backed Guarantee
Ensure that your currently excellent legal and financial credit rating is maintained and does not fall below our required limits. This ensures that only the most professional and reliable contractors remain on our directory
Testimonials
I've included some of the comments from customers.
Alternatively, visit this Fair Trades testimonials link to go straight to the page with all the reviews.
You will find our scores on a scale of 1- 10 based on the following criteria:
Quality
Timeliness
Courtesy
Value
I am pleased to tell you our average score is between 9 and 10.
Mr & Mrs Valenti-Clari – 24/10/2019
Absolutely lovely, fabulous work would 100& recommend.
Kay Waller – 02/10/2018
Very good and good value
Ian Franney – 27/09/2018
10-10-10-10
Lynne Sewards – 18/08/2018
10-10-10-10
Ken Graham – 16/08/2018
Can't express how pleased and satisfied I am with the work done and the positive manner in which it was executed. First class – all round.
Orla Mills – 26/06/2018
10=10-10-10.
John & Linda Woodward -23/06/2018
STAY WARM AND DRY KEPT US UPDATED ON PROGRESS. JAMIE DID AN EXCELLENT JOB PLASTERING ETC. LEFT OUR HOME CLEAN AND TIDY EVERY NIGHT.
Jason Kirk – 08/06/2018
10-10-10-10
Peter Anaman – 05/06/2018
10-9-10-9
Paul Fletcher – 18/05/2018
9-9-10-9
Chantelle Parsons – 17/05/2018
10-10-10-10
Les Johnson – 11/05/2018
BRILLIANT WORKMANSHIP & SERVICE (WOULD RECOMMEND TO ANYONE)
Mark Adams – 30/04/2018
JAMIE & MARTIN WERE EXCELLENT, FRIENDLY & DID A CRACKING JOB.
Mr & Mrs Orridge – 20/04/2018
Good value for money. extremely helpful.
Mr & Mrs Barnett – 16/04/2018
9-9-9-9
Cecilia Porritt – 19/03/2018
10-10-10-10 
Julie Bradwell – 14/03/2018
10-10-10-10
G. Hall – 06/03/2018
POLITE, EFFICIENT & TIDY. VERY PLEASED WITH THE WORK DONE.
Nicola Kirkwood – 20/02/2018
WORK COMPLETED AS PER THE QUOTE, AND TO A SATISFACTORY STANDARD. NEAT FINISH PLEASED WITH WORK.
Mohammed Farooq – 16/02/2018
I am pleased with the workmanship that was carried out and will recommend to anyone. Thanks great work done.
Danielle Browne – 12/02/2018
Workmen were very friendly and polite and work was done to a high standard.
CAROL MILES – 08/02/2018
VERY SATISFIED. GOT ON WITH THE JOB. HARD WORKING. WOULD USE AGAIN.
REBECCA COOPE – 07/02/2018
Excellent service. Highly recommended.
Mr N Thompson – 22/01/2018
Very hard working, been a pleasure.
JENNY PROKOP – 12/01/2018
Stay Warm and Dry helped me out of a very tricky situation. I had some work done that was below par and I could not get the guy back to complete the job. Stay Warm and Dry talked me through my options honestly and completed the work quickly to a high quality.
M.A.N. SHAHAB – 15/12/2017
10-10-10-10
Peter West – 08/12/2017
Excellent, wouldn't hesitate to recommend this company!
Mohammed Ashiq – 30/11/2017
VERY FRIENDLY AND APPROACHABLE, CLEAN AND TIDY. WOULD HIGHLY RECOMMEND. WILL USE AGAIN
Mrs J Clark – 24/11/2017
EFFICIENT AND FRIENDLY. THE TEAM DID A GREAT JOB. VERY HAPPY.
Ms Smith – 22/11/2017
Jamie and Martin were extremely good careful workers
Mrs Fell – 16/11/2017
CLEAN + TIDY, JOB DONE WHEN SAID. EXPLAINED EVERYTHING REALLY WELL. APPRECIATED THE CONCERN TAKEN OVER OUR PROPERTY, PLEASED WITH THE WORK.
Chris Richards – 10/11/2017
Very tidy and kept mess down to a minimum. Good job.
Lewis de Banke – 03/11/2017
10-10-10-10
Larry Walker – 30/10/2017
Very pleased with the work and how it was carried out.
Hugo Van der Meer – 17/10/2017
Excellent workmanship, tidy & professional on every level. Would thoroughly recommend.
Wendy Smith – 12/10/2017
Fantastic workmanship.
Dulcie Allen – 28/09/2017
Martin and Jamie was very professional in every way.
Ashley Spencer – 24/08/2017
Very friendly and efficient.
Mark Rigley – 22/08/2017
Perfect, Perfect, Excellent, Excellent. Would recommend to Any Body, Perfect. Work completed on time. Professional staff.
Mr S Sharp – 18/08/2017
Excellent work, clean and very tidy.
Kerry Tweena – 18/08/2017
Excellent work, pre + post work advice + guidance + polite tradesman + supportive sales/owner.
Giovanni Atzori – 15/08/2017
Very good job.
Anthony Fielden – 31/07/2017
VERY POLITE, IMMACULATE. BRILLIANT. THE BLOKES WERE VERY GOOD, THE JOB WAS IMMACULATE AND THEY CLEANED UP AFTER THEMSELVES.
SARAH TAYLOR – 13/07/2017
Very reliable.
Mrs Charlesworth – 04/07/2017
2 GREAT GUYS CAME TO DO THE WORK VERY PLEASANT AND COULD TAKE A LAUGH. GREAT JOB – THANKS. 
Saddaf Khan – 29/06/2017
Friendly and professional service. Very happy with the work, this is my second time calling Stay Warm and Dry.
MICHAEL HILL – 13/06/2017
EXCELLENT SERVICE FROM BEGINNING TO END.
Kathleen Kinchin – 06/06/2017
Would definitely use this company again. Very little mess.
Mike O'Sullivan – 15/05/2017
EXCELLENT JOB. CRACKING LADS.
Patrick Ashcroft – 12/04/2017
10-10-10-10
A Redfern – 16/03/2017
MARTIN AND JAMIE WERE BOTH VERY PLEASANT, WORKED WELL TOGETHER TO GET THE JOB DONE. CLEANED UP AND TRIED TO KEEP ANY MESS TO A MINIMUM. WOULD RECOMMEND.
Morley P.H. – 15/03/2017
10-10-10-10 Excellent.
Mandy Heaps – 02/03/2017
10-10-10-10
Lynne Mason – 24/02/2017
Exceptional – Very professional – sincere – genuine- important to me as a customer
S Wardle – 08/02/2017
10-10-10-10.
Mr Harrod – 02/02/2017
10-10-10-10.
Mrs J Gould – 31/01/17
Very pleased.
Julie Peplow – 26/01/2017
Very efficient,  friendly, would have again if needed.
Linda Card – 24/01/17
PROMPT, COURTEOUS, POLITE. Would highly recommend this company. Very happy with them.
Mr & Mrs Young – 19/01/2017
Very good work left everywhere spotless. Would recommend highly. 
Paul Meats – 12/01/2017
CLEANED UP AT THE END OF EVERY DAY, JOB WELL DONE, NO MESS, BRILLIANT!
Simon Edwards – 7/12/2016
On time, Helpful, good work.
Mrs C Szymanski – 14/11/2016
Hardworking got the job done. Pleased customers.
M. T. Anderson – 10/11/2016
Would recommend company! Martin went the extra mile for us  in sorting out what we  wanted & needed. Thank you!
Eric Boyce – 28/10/2016
10-10-10-10
Gary Dakin – 18/10/2016
Worked throughout. No messing. All cleaned up.
Jonathon Jarvis – 17/10/2016
Very good value for money. Excellent workmanship. Very tidy and cleaned up every day.
Anna Murray – 15/09/2016
10-10-10-9
Janet Amoah – 12/08/2016
I was very impressed with the company, from the initial visit and quotation, to completion of the work. Left everywhere clean
Mr & Mrs Morton – 26/07/2016
NEVER HAD ANY BETTER WORKMEN. GREAT JOB DONE WELL. PLEASED WITH EVERYTHING COULD NOT DO ENOUGH TO PLEASE. HIGHLY RECOMMENDED.
Laurence Platt – 20/07/2016
Good work carried out efficiently and cleanly.
Mike Plackett – 13/07/2016
10-9-10-10
Mrs Woolley – 08/07/2016
10-10-10-10
Ian Bowmer – 05/07/2016
Quick, efficient, left property clean and tidy as possible considering the type of work carried out. Very nice friendly and polite team.
J.W. & G.M. Waite – 27/05/2016
Would highly recommend this company. They were exemplary. Cannot fault them.
K Robinson – 11/05/2016
10-10-10-8
Katie Kaylor – 05/06/2016
10-10-10-09
Marion Wilkinson – 21/04/2016
Excellent and efficient.
Mr A Roebuck – 15/04/2016
10-10-10-10.
Laurance Platt – 08/04/2016
Excellent job done – on time. Staff left premises clean and tidy.
Gary S Walker – 07/04/2016
WOULD RECOMMEND STAY WARM AND DRY TO ANYBODY, PROFESSIONAL, COURTEOUS + EXCELLENT VALUE.
Mr & Mrs Pemberton – 16/03/2016
Very pleased with the work. Value for money.
Aideen Walsh – 23/02/2016
Would definitely recommend to anyone needing damp treatment. Very professional & friendly service. 
Mrs J Richardson – 19/02/2016
LOVELY TO HAVE SO MUCH WORK DONE WITH VERY LITTLE MESS!! THANK YOU!
Laura Shepherd – 13/01/2016
Over The Moon – Thanks again.
Mr Steve Thomas – 11/12/2015
10-10-10-10
Mr & Mrs Wetton – 3/12/2015
Brilliant work well done.
Mr & Mrs Driver – 2/12/2015
10-10-10-10.
Mr R Ward – 20/11/2015
Had no problems got on with the job, very satisfied.
D J Hustings – 12/11/2015
Very accommodating and experienced tradesmen. Would recommend without hesitation.
Susan O'Connor – 15/10/2015
The 2 workmen were polite, clean and tidy, came did an excellent job with minimum fuss or mess, would use again.
Mr & Mrs Stokes – 07/08/2015
Highly Recommended Contractor Very Considerate & Accommodating.
Mr & Mrs Holt – 23/07/2015
A lovely job done.
Mr H Mc Dermot – 08/07/2015
10-10-10-10.
 Graham Potts – 29/05/2015
Very good, very pleased.
Tony Ford – 22/05/2015
Absolutely delighted with the work done.
Marie Judson – 22/04/2015
I have been very happy with the workmanship and the lads were very helpful and efficient always showing respect for me and my property.
Mr Bignall – 25/03/2015
10-10-10-10
Mr Greasley – 06/03/2015
Great company – would highly recommend!!
Mr & Mrs Holehouse – 26/02/2015
Highly recommended, would use again.
Mr John Cross – 16/12/2014
I have been impressed with the speed, care & efficiency.
Mr D. Hollingworth – 16/12/2014
Did everything they promised and more work was done to a very high standard. Extremely pleased.
Mark Blyton – 27/11/2014
Excellent work completed to a very high standard, very professional company.
Ms Claire Hardisty – 27/11/2014
Would recommend in a heartbeat, very good work and so tidy.
Mr Steve Brown – 27/11/2014
Very professional at all times and overcame any problems satisfactorily.
Stuart Indcoy – 17/07/2014
Cracking lads very informative & professional, great service.
Mr Freyne – 28/05/2014
Clean and tidy finish. Would recommend.
Mr E Barke – 12/05/2014
Very good.
D Varnham – 21/03/2014
Very polite, efficient team. I am very happy with the work carried out and service provided. Would have no hesitation in using them again and would recommend to friends and family.
Mr David Prosser – 21/03/2014
Brilliant job, very happy. The room was left very tidy.
B Wibberley – 13/03/2014
The workmen were very good & pleasant and clean and tidy.
Alwyn Crozier – 07/02/2014
Excellent timekeeping and the completion looks satisfactory.
Linzi Mundin – 22/01/2014
Hard working and dedicated to getting the job done properly. Will definitely recommend.
James De La Rue – 08/01/2014
Really impressed by Steve, Martin and Tom.
Mr R Lane – 08/01/2014Very happy with the work that has been done. Good job, definitely recommend.
Very friendly and competent workforce, excellent service.
Maria Gaffhheriades – 09/12/2013
Excellent work & service.
Mr & Mrs Walker – 21/10/2013
Very pleased with the work. Very hard workers. Minimum mess, nothing too much trouble. Highly recommend.
Mr Matthew Neale – 24/09/2013
A very good job left everywhere clean and tidy. Would recommend to others.
Amanda Burley – 05/04/2013
Stay Warm and Dry and their employees could not be faulted and the work was of the highest standard. Highly recommended.
Rocky A Foster – 19/03/2013
Arrival time, excellent. Friendliness, excellent. Professionalism, excellent. Overall the team did a very good job and in good time.
Margaret Bacon – 19/03/2013
I highly recommend this company, they are very confident in their product and provide an excellent service in a friendly way.
L Thornhill – 07/11/2011
Very happy with the work completed.
C Basford – 07/11/2011
Polite, efficient and caring, willing to provide lots of reassurance
Kirstine Mc Daniel – 19/09/2011
Excellent work left everything very tidy. Would definitely use this company again.
Frances Clifford – 12/08/2011
Very professional would recommend without hesitation.
J Spence – 10/08/2011
The workmanship is of high quality.
Mrs Hayes – 21/01/2010
Satisfied.
Mrs Parker – 21/07/2008
"used before"
Mr & Mrs King – 21/07/2008
"good clean job would recommend to anyone"